At the beginning of each year we release new lines. We've already mentioned in our New Year Resolutions blog post that we are launching new designs. The first butterfly we are going to talk about is Divalis Butterfly.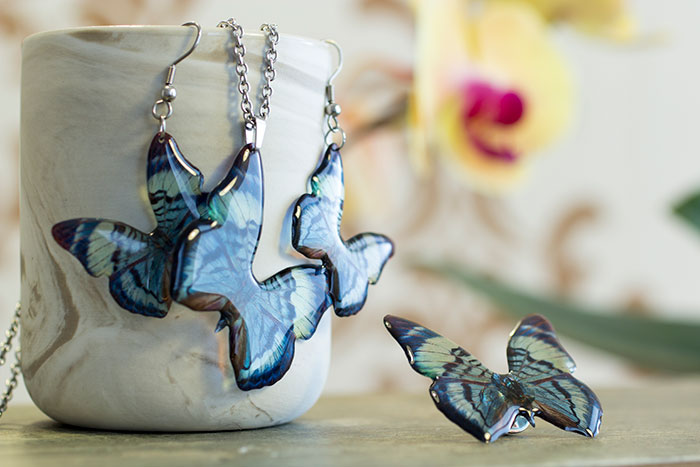 As with all our designs, the Divalis butterfly has a lot of details. We are using resin to create each piece of jewellery. Hence, our choice of material helps us make the butterfly look very realistic. In addition, it's light and delicate, while being sturdy.
The earring hooks, the bail, and the chain are all made with stainless steel. As a result, they will not tarnish. So, you can wear your butterflies for many years to come, and the jewellery will look like new.
For the brooch, we've picked a new brooch back design, with a pin. It's easy to attach and the pin can barely be seen.
Details of the Divalis buttefly range
The size of the big butterfly: 3.5 cm x 4 cm
The length of chain: 45 cm (18 inch)
The size of the small butterflies: 2.8 cm x 3 cm
We have a special surprise for our readers. Seems like a perfect opportunity for a giveaway! Besides, we've decided to let the winner chose between a jewellery set of earrings with brooch or a set of earrings with necklace.
Probably you already know which one you prefer wearing. Or, maybe, you want to win it for someone special. Either as a gift for Valentine's Day or just to say that you appreciate her.
If you want to enter the giveaway, please use the rafflecopter widget below. Also, make sure you've read all the terms and conditions before entering. Good luck!
Terms and Conditions. You are agreeing to all the terms and conditions listed below by entering the competition.
No purchase necessary.
We are offering a prize that consists of a set of two items, worth in total £48. If you win, you can chose between a set of earrings and necklace or a set of earrings and brooch.
We don't offer any cash alternative.
You can enter each day if you like a new picture on Instagram.
Your comment should be at least 8 words. Therefore, shorter comments will be deleted and the entry will not be taken into consideration.
If you win the giveaway, you will be contacted on the email address provided. Consequently, make sure you write the correct email address. If the winner doesn't respond in 28 days, a new winner will be picked up.
This giveaway is opened to residents from United Kingdom only and ends on 05/02/2018.
Our colleague will check all the entries.