We have launched a new colour for the Admiral Butterfly: Purple. Both earrings and necklace are available in the new colour.
The Admiral butterfly range already had two gorgeous colours: red and blue and we hope the new one will be just as popular, if not more. The small butterflies are from our Sterling Silver line, meaning that the chain, bail, ear wires, and jump rings are all from Sterling Silver.
The real butterfly, the one that inspired us to create these stunning pieces of jewellery, is native to the United Kingdom, and can be seen in the southern parts of the country, in the woodlands. He likes Honeysuckle. Its size is two to three times bigger than the butterfly in our collection.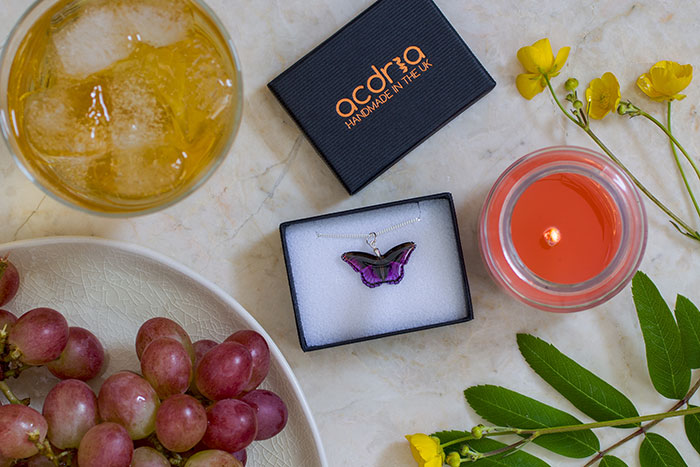 The delicate and beautiful butterfly hangs from the middle on the chain. Is a delight to wear, as it is so light, having only a few grams. Despite its small size, it has plenty of details.
See the necklace here.
Like the matching necklace, the earrings too hang in the middle. They move around with you when you wear them.
See the earrings here.
As you might know, all the pieces of jewellery from Acdria are made in our family-run workshop in England. The piece of jewellery are crafted by hand, without using moulds. This is there might be variations between the items, hence you will get a truly unique piece.
Our jewellery is also vegan, and cruelty free, as we would never use real butterflies to create our pieces of jewellery.
This was only an quick update, to show off the new colour for the Admiral Butterfly. We are working now on some new items, that will look a bit different. It's a very exciting time for us. We love developing new items and trying new techniques too.